Help raise funds for the Altevette Project
Altevette Project funds the development and support for disadvantaged girls through education in the remote region of Upper Mustang in Nepal. Girls in this area have little opportunity for education due to the lack of schools at high altitude in such remote and harsh regions and are vulnerable to extreme poverty and exploitation. View Website

The school provides accommodation and education to girls from impoverished families living in the remote highlands of Upper Mustang on the border with Tibet and other nearby Buddhist Himalayan regions. Check out our facebook page

Please help us to provide some warm clothing for the girls and their teachers.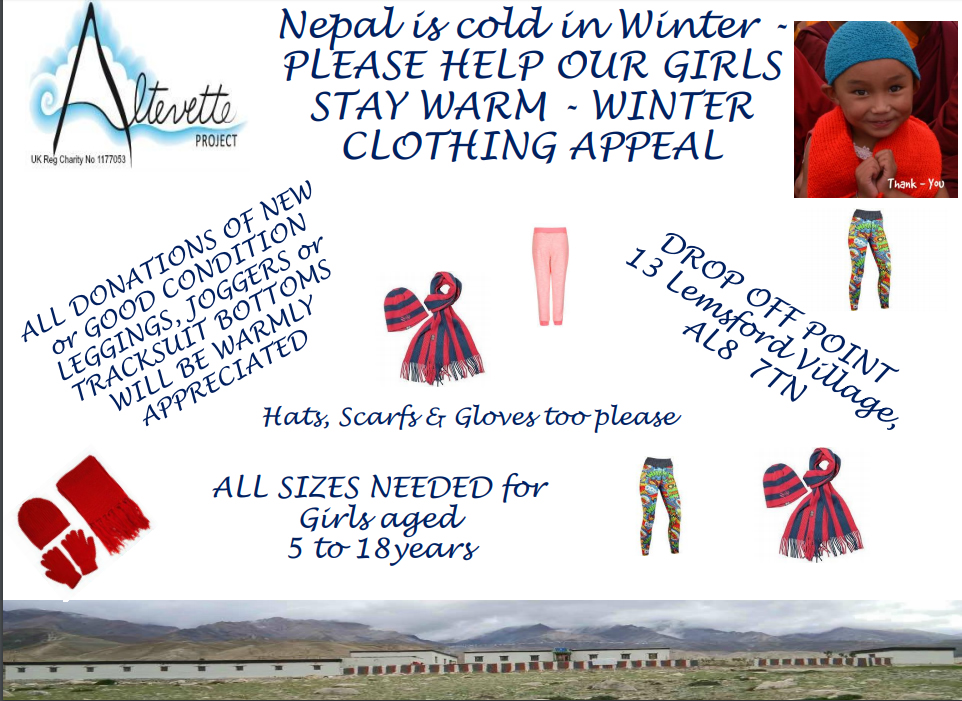 Please help us to provide some warm clothing for the girls and their teachers. We have 53 girls and 9 teachers and will be visiting the school at the end of October.

If you have any new or good condition, clean warm clothes such as leggings, tracksuit trousers, joggers, hats, scarfs & gloves please be kind enough to donate. We will carry them with us when we go to Nepal at the end of October. As we fund all our trips ourselves (we don't take expenses from donated monies) we will be limited in our baggage allowance so no heavy items such as shoes please.

A drop off box will be available at 13 Lemsford Village AL8 7TN and we will collect several times during October

Learn More

Click here to view info flyer

Thank-you so much for helping us if you can.

If you have any questions about the appeal or our charity please email Linda@Altevetteproject.org. You can find us on Facebook or on our blogsite www.altevetteproject.org Info from Edna 01707 321 802
---
LLHG 2001 to Present Day

At Our first meeting in 2001 we elected Revd. Ron Ingamells as Chairman its aim was to study all aspects of the history and the people of this area - both ancient and modern. On passed on the chair to local man Jeremy Summers a retired film director who lived in Cromer Hyde. In 2007 Joan Baraclough a long time member carried on the good work the previous chairman's had built up with a comprehensive archive collected and collated by late Stan Borrie. Stan's son Richard built a website for the group. When Joan stepped down in 2011 long term member and local man Andy Chapman became chairman, He continued on the same guidelines, developing the website and overseeing various publications, the regular meetings and the odd trip out. I was during this period we started the annual quiz with Welwyn District History Group which continues to the Day. In 2017 Pete Davis became our 5th Chairman and has continued with the quiz, village fete and regular meetings up to the present time
Revd. Ron Ingamells 2001 - 2002
Jeremy Summers 2002 - 2007
Joan Baraclough 2007 - 2011
Andy Chapman 2011 - 2017
Pete Davis 2017 - 2018
Andy Chapman 2018 - Present Day
---